The Ensemble intercontemporain receives the title of European Cultural Ambassador by the European Commission for the year 2012.


The European Commission's Education, Audiovisual and Culture Executive Agency has appointed the Intercontemporary European Cultural Ambassador for 2012 as part of the Culture Program 2007-2013.
This title is attributed to him for the long-term collaboration he has built since his founding in 1976 with many European partners to spread music from the 20th century to today.
With sixty concerts per season in France and abroad, the Ensemble intercontemporain ensures an essential mission of cultural diffusion recognized today by the European Commission.
Its educational and training activities for young professionals also make it a major player in the building of a Europe of the Arts.
Thanks to this title of ambassador and to the financial support that accompanies it, the Ensemble intercontemporain can strengthen its role of interpreter putting creators in contact with the European public.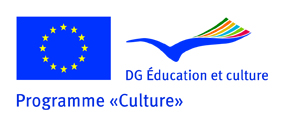 This project was financed with the support of the European Commission.
This publication is the sole responsibility of the author, and the Commission is not responsible for the use that may be made of the information.
*
Seit seiner Gründung spielt das Ensemble intercontemporain musikalische Werke, die zwischen dem Beginn der 20. Jahrhundert und der heutigen Zeit enstanden sind, sowohl in Europa als auch in der ganzen Welt.
Für seinen Einsatz für die Verreitung der Werke wurde das Ensemble von der Europäischen Kommission für 2012 als "Kulturbotschafter der Europäischen Union" anerkannt. Dieser Titel bringt die beständige Zusammenarbeit zum Ausdruck, die das Together seit seiner Gründung mit den europäischen Partnern pflegt, um das musikalische Erbe lebendig zu halten und den neen Stimmen des musikalischen Schaffens Gehör zu verleihen.
Das Ensemble intercontemporain ist über diese Anerkennung sehr stolz und dankt der Europäischen Kommission sowie allen, die die Verleihung dieses Titles möglich werden ließen.
*
Since it was first established, the Ensemble Intercontemporain has promoted the circulation of 20th and 21st century musical works throughout Europe and the world.
This vital mission of disseminating musical works has led the Ensemble to be recognized today as "European Cultural Ambassador" for 2012 by the European Commission. The title highlights the enduring relations the Ensemble has nurtured since the beginning with its European partners in the goal to keep musical heritage alive and bring new works to the stage. The Ensemble Intercontemporain is delighted to receive this mark of support and proudly thanks the European Commission, as well as everyone who made this recognition possible.
*
Ensemble Intercomtemporain har siden det blev etableret støttet spredningen af nyere musiske værker fra det 20ende århundrede frem til i dag i Europa og på verdensplan.
Denne væsentlige opgave har nu fået Europakommissionen til at udnævne ensemblet til "Europæisk Kulturambassadør" for 2012. Denne titel fremhæver det mangeårige samarbejde som ensemblet siden sin grundlæggelse har haft med sine europæiske partnere for at opretholde den musikalske arv og for at introducere nyskabelser.
Ensemble Intercomtemporain er meget glad for denne støtte og vil gerne takke Europakommissionen og alle dem, der gjorde det muligt at opnå denne anerkendelse.
*
Since its inception, the Intercontemporain Ensemble promotes the circulation of musical works of the twentieth century to the present day in Europe and in the world.
This essential commitment of dissemination today means Ensemble to be distinguished as "European cultural ambassador" by the European Commission for the year 2012. This title shows the permanent collaboration that the Ensemble maintains since its foundation with its European partners to keep alive the Musical heritage and make known the new voices of creation.
The Intercontemporain Ensemble welcomes this support and expresses its sincere thanks to the European Commission, as well as to all those who have made this recognition possible.
*
Depuis sa création, l'Ensemble intercontemporain encourage the circulation of musical works du 20ème à aujourd'hui en Europe et dans le monde.
Cette mission essentielle de diffusion vaut aujourd'hui à l'Ensemble d'être reconnu 'Ambassadeur culturel européen' for the European Commission for l'année 2012. Ce titre souligne the collaboration that the Ensemble développe depuis sa fondation avec ses partenaires européens Pour faire vivre le patrimoine musical et faire comprre les nouvelles voix de la création.
L'Ensemble intercontemporain est très heureux de ce soutien et tient remercier Européenne Commission, so that ceux qui ont rendu possible cette reconnaissance.
*
Since its creation, the Ensemble Intercontemporain promotes circulation, in Europe and in the world of musical works composed by the twentieth century to the present day.
This fundamental mission of spreading the Ensemble has earned the nomination as "European cultural ambassador" for 2012 by the European Commission. This title highlights the continuing collaboration that the Ensemble cultivates its inception with its European partners, in order to bring to life the musical heritage and to hear the new voices of the compositional scene.
The Ensemble Intercontemporain is very happy to support this, and wishes to express its gratitude to the European Commission and to all who have made this recognition.
*
ア ン サ ン ブ ル · ア ン テ ル コ ン タ ン ポ ラ ン は 創立 以来, つ ね に ヨ ー ロ ッ パ, な ら び に 世界 の 20-21 世紀 の 音 楽 作品 ​​を 広 く 知 ら し め る 役 割 を 果 た し て い る. こ の 重要 な 貢献 に よ り 2012 年, 同 ア ン サ ン ブ ル は 欧 州 委員会 か ら 「ヨ ー ロ ッ パ 文化大使 」として 認め られ た. この 称号 は アンサンブル が 設立 以来, 音楽 遺産 に 命 を 与え 続け ながら 新しい 創造 の 声 を 聴衆 に 聴か せる ため, ヨーロッパ 中 の パートナー と 発展 さ せ て き た 永続 的 な コラボレーション を さらに 強めるも の と 言 え よ う. ア ン サ ン ブ ル · ア ン テ ル コ ン タ ン ポ ラ ン は こ の 度 の 喜 ば し い 支援 を 光 栄 に 受 け 止 め, 欧 州 委員会, な ら び に ご 協力 い た だ い た 関係 各位 に 感謝 の 意 を 表 す る.
*
Or początku swojego istnienia Ensemble Intercontemporain działa na rzecz upowszechniania Europie w i na Świecie XX-wiecznych the najnowszych utworów muzycznych.
Doceniając TE istotną działalność popularyzacyjną, Komisja Europejska przyznała zespołowi tytuł "Ambasadora kultury Europejskiej" na rok 2012. OW tytuł podkreśla znaczenie trwałej współpracy, która łączy zespół z europejskimi partnerami or chwili jego założenia, w dążeniu do zapewnienia, by Dziedzictwo muzyczne pozostało żywe by the EIS słyszeć Głos nowych twórców.
Ensemble Intercontemporain pragnie wyrazić SWA radość z uzyskanego tytułu the podziękować Komisji Europejskiej, in tym także wszystkim, dzięki którym mögl otrzymać tak zaszczytne wyróżnienie.
*
Desde at its Fundação or Ensemble Intercontemporain tem concorrido para a circulação das obras Musicais dos Seculos 20:21, in nível europeu and mundial.
Esta de missão fundamental divulgação valeu-lhe or título de "Embaixador cultural europeu 2012", atribuido pela Comissão Europeia. Através arouses distinção, Pussy equal measure Expressa to colaboração duradoura que, desde os seus primórdios, to formação instaurou com os seus Parceiros europeus, com or Duplo About La promover um património and de dar a conhecer novas as Vozes by criação.
It's big polka dot com alegria que o Ensemble Intercontemporain recebe hoje este apoio, sleeping what deseja agradecer to Comissão Europeia, assim como todos que Aqueles possibilitaram semelhante reconhecimento.
*
Or svého vzniku Ensemble Intercontemporain provozuje hudební Dila z 20. století do současnosti v Evrope in there Svete.
Toto základní poslání podpory soudobé hudby mu nyní vyneslo uznání "Evropský kulturní velvyslanec" Evropské komise pro rok 2012. Tento titul zdůrazňuje dlouho trvající spolupráci, kterou Ensemble Intercontemporain rozvíjí or svého vzniku if svými evropskými partnery, aby zachoval hudební dědictví to nechal zaznít nové hlasy tvorby .
Ensemble Intercontemporain is vysoce Ceni Institute podporu to chce poděkovat Evropské Komisi, stejně jako všem, Diky kterým bylo možné toto získat uznání.

The Sacem Action Fund is a regular partner of the cultural and educational activities that the Ensemble undertakes since its inception. In 2009 and 2010, he supported an original project of musical creation and sensitization. Contemporary music; Destination of orchestras of harmonies of Valenciennes and Tours.
The FCM regularly supports the Ensemble on its CD publishing projects. Since then it has contributed to the financing of the "Sir & Co-written with Ircam and the Austrian label Kairos.
Music Today's French music has been well- Created In 1978; The initiative of the Ministry of Culture and Communication, Radio France and the Sacem with the support of graphic designers, joined by the Sack in 1988. The partners pool logistical and financial resources to Support; The production of phonographic and video recordings of trade. MFA supports several CDs from the collection "Sir & nbs & quot; Since its inception in 2008.