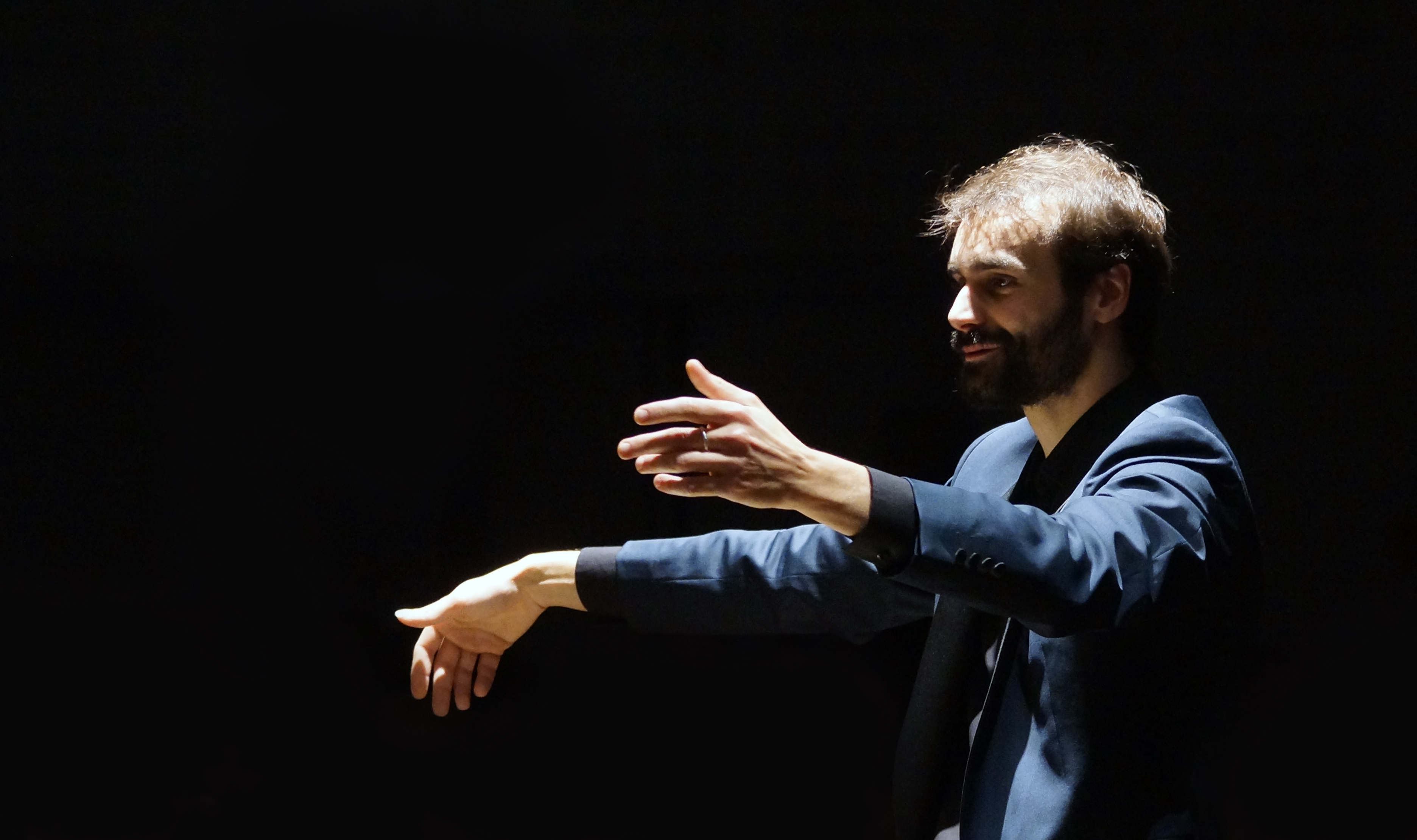 Dylan Corlay is a multi-skilled artist: conductor, instrument player, song writer, teacher and comedian.
In 2015, this stage aficionado won the first prize of "the 6th International Jorma Panula Competition" in Finland, a unanimous decision by the jury. He has been appointed Assistant Conductor of the Ensemble Intercontemporain for the next 2 years.
As a conductor, he trained with Jean-Sébastien Béreau, Gianluigi Gelmetti, Philippe Ferro, Péter Eötvös, Atso Almila and Jorma Panula. From 2012 to 2015, he was the brass-band "Exo Brass" musical director. Since September 2013, he conducts two student orchestras at the Conservatoire de Tours. He regularly teaches conducting and sound painting courses.


Dylan Corlay studied trumpet, guitar, bassoon and ondes Martenot. He graduated from the Conservatoire Supérieur National de Musique et de Danse de Paris with four diplomas: bassoon, writing, chamber music and generative improvisation. He improved his bassoon training with Marco Postingel at the Salzburg Universität Mozarteum.
He worked with different orchestras conducted by Tugan Sokhiev, Philippe Jordan, Myung-Whun Chung and Pierre Boulez. He also performed as a soloist. The international stages where he performed include the Shangai Grand Theatre, the Luzern KKL, Julliard School and Royal Albert Hall.


Dylan Corlay composes pieces for soloists, choirs, symphonic orchestras and big bands.
In June 2010, he got the "best soundtrack" award for his piece Le Chant de l'arbre, at the Hamburg International Short Movies Festival. In 2011, he composed Divergences, a symphonic orchestra piece, upon request by the former musical director of Orchestre des Jeunes du Centre. For the "Voix d'Enfance" festival, he composed a piece for children choir and orchestra: D'Ici et d'ailleurs. He also created music and lyrics for two musical tales: Sans tuba ni trompette (2015) and L'Ilôt Bassons (2010).
Dylan Corlay articulates his work around the idea of transversality. After winning a contest at the CNSMDP in 2008, he created his first multidisciplinary show Scènes de Mains, gathering together musicians, dancers, comedian, painter and drawer.
At the same time, he studied sound-painting with Walter Thompson and Vincent Le Quang and passed his "Level One" as a soundpainter. For 3 years, Dylan Corlay was a pianist in the musical company "New" and performed at the Théâtre de Trévise (Paris).
In 2012, he took part in an intensive project, "La Voie du Corps", combining dance, theatre and mime, at the Philippe Genty Studio. He then performed as a comedian in Jean Giraudoux's plays, at the Théâtre du Nord-Oust (Paris).
Since 2011, Dylan Corlay performs solo in "L'îlot Bassons, a musical show he created. This tale is the story of the pirate Mordicus, a bassoon player escaped from a symphonic orchestra. Alongside the show, Dylan wrote a musical book for children entitled Les Aventures de Mordicus (Mordicus Adventures).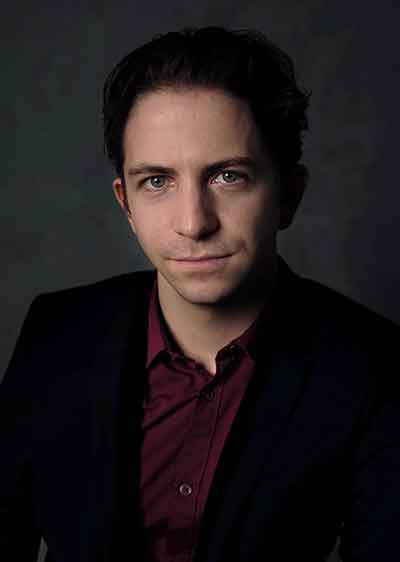 Gregor A. Mayrhofer is currently assistant conductor of the Ensemble Intercontemporain in Paris and is studying orchestral conducting with Alan Gilbert, music director of the New York Philharmonic, at the Juilliard School in New York. Other conducting teachers who have been important in his development include Peter Eötvös, Rüdiger Bohn, Kenneth Kiesler and Johannes Schläfli.
He felt very honored to be invited to accept the position of interim director of the Opera Mauritius Festival for its 2013 season.
Mr. Mayrhofer has worked with many international orchestras and ensembles, including the SWR Symphonieorchester, Romanian State Philharmony, North Czech Philharmonic Orchestra, Berliner Sinfonietta, Saint Petersburg Symphony Orchestra and Ensemble Modern Akademie, both as a conductor and composer. His conducting programs have championed gifted young composers and included premieres of many new works.
Mr. Mayrhofer has been commissioned as a composer by the Bayerische Staatsoper München (guest performances at the Lucerne Festival 2014), Bayerischer Rundfunk, Münchner Biennale, Opera Mauritius, Tiroler Festspiele Erl and Siemens Arts Forum. He is currently working on a commission for Chor des Bayerischen Rundfunk.
In addition to conducting and composition, Mr. Mayrhofer has been active as a pianist. His appearances in all three capacities have taken him to Germany, Austria, Switzerland, France, Italy, Slovenia, Czech Republic, Romania, Ukraine, Russia, Hungary, Mauritius and the U.S.A. Prior to coming to the Juilliard School, his studies were at the University of Music and Performing Arts Munich (Jan Müller-Wieland), the CNSM de Paris (Frederic Durieux), and the Robert-Schumann-Hochschule Düsseldorf (Manfred Trojahn), and included composition, conducting, piano, music theory. He has also enjoyed private studies in jazz piano, violin, organ and clarinet.
Mr. Mayrhofer is the recipient of numerous awards including First Prize of the Tassilo Kulturpreis der Suddeutschen Zeiting (with his jazz ensemble Imbrothersation), First Prize of the Bundeswettbewerb Jugend Musiziert (chamber music), and additional awards from the Jeunesses Musicales national competition for young composers, the Crossmedia-Composition-Competition, and scholarships from Studienstiftung des dt. Volkes, Internationale Stiftung für Kultur und Zivilisation, "Yehudi Menuin Live Music Now", as well as the Bruno Walter Memorial Scholarship.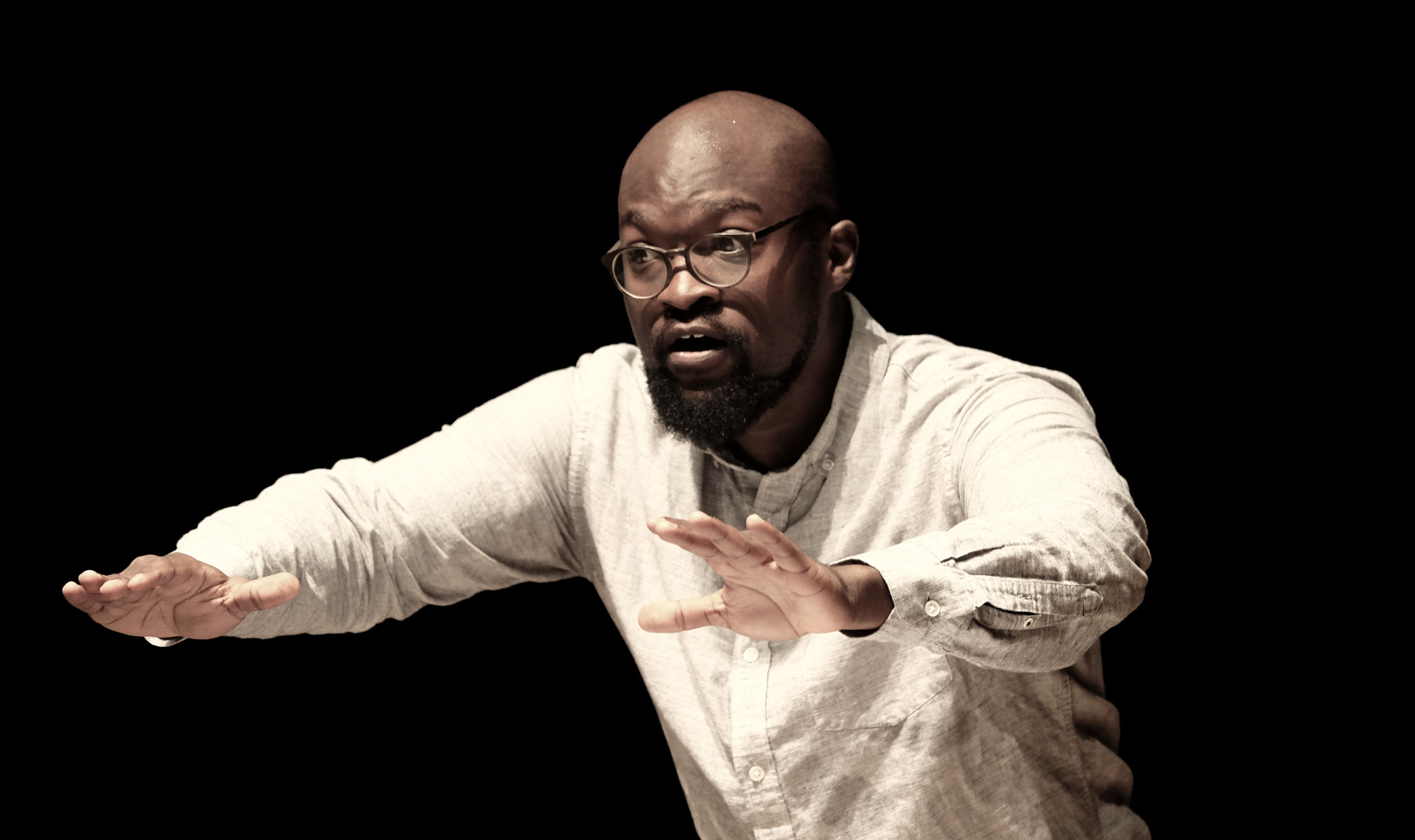 Currently Assistant Conductor of Ensemble intercontemporain (Paris, France), Assistant Professor of Music and Director of Orchestras at Gettysburg College (Gettysburg, PA, USA), Artistic Director of the New Philharmonic (Omaha, NE, USA), and formerly Assistant Conductor of Ensemble Modern and Conductor of the International Ensemble Modern Academy (Frankfurt, Germany), Artistic Director of The What's Next? Ensemble (Los Angeles, CA, USA) and a Fulbright Fellow in Central Asia, Zimbabwean-born conductor Vimbayi Kaziboni (b. 1988) has been described as a conductor of "great intensity, without distancing, maneuvering, without indifference" (Neue Musikzeitung, Cologne).

His young and versatile career has taken him to performances in Australia, Austria, France, Germany, Kyrgyzstan, the Netherlands, New Zealand, the Philippines, South Africa, the United Kingdom, the United States and Uzbekistan, performing at some of the most prestigious concert halls in the world, including Carnegie Hall, Walt Disney Hall, Admiralspalast, Deutschlandfunk, Hessischer Rundfunk and Oper Frankfurt among others.

Mr. Kaziboni has worked directly with many of the leading composers of the day that include Helmut Lachenmann, George Benjamin, Matthias Pintscher, Olga Neuwirth, Heiner Goebbels, Nicolaus A. Huber, William Kraft and Jacob TV among many others. He has led performances at Gaudeamus Muziekweek (Utrecht, NL), Cresc...Biennale (Frankfurt, DE), Klangspuren Festival (Schwaz, AU), Young Euro Classic (Berlin, DE), Freispiel (Frankfurt/Berlin, DE), Forum für Neue Musik (Cologne, DE), Taschenopernfestival (Salzburg, AU), the Felix Mendelssohn-Bartholdy Hochschulwettbewerb (Berlin, DE), Musik-Festival Quantensprünge (Karlsruhe, DE), and Voix Nouvelles (Royamont, FR).

In his role as the Conductor of the 2012-13 International Ensemble Modern Academy (IEMA), Mr. Kaziboni led many critically lauded performances in venues and festivals throughout Europe. Concurrently he served as Assistant Conductor of Ensemble Modern, covering the work of many renowned European conductors including Stefan Asbury, Michael Boder, George Benjamin, Peter Eötvos, Johannes Kalitzke, Franck Ollu, Markus Stenz, Lucas Vis and Jörg Wiedman, and working on numerous significant projects including Heinner Goebbels opera "Landschaft mit entfernten Verwandten", Hans Werner Henze's "Requiem", and the music of Steve Reich in "Loops and Lines", a minimalist ballet co-production with Stadtstheater Wiesbaden. In September 2013 Mr. Kaziboni made his subscription debut conducting the Ensemble Modern on a program of Stockhausen and Eisler on the 2013-14 season opening concert of the Happy New Ears concert series at Oper Frankfurt.
From 2013-14 Mr. Kaziboni was a Fulbright Fellow in Tashkent, Uzbekistan where he conducted the Omnibus Ensemble, the National Youth Orchestra of Uzbekistan and was Visiting Lecturer at the State Conservatory of Uzbekistan.

Mr. Kaziboni holds degrees from the University of Southern California (USC) in Los Angeles, California (USA) and the Frankfurt University of Music and Performing Arts (HfMDK) in Germany.

For more information visit: vimbayikaziboni.com